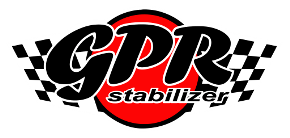 The V4 is bolted directly to the triple clamp rather than the handlebar clamps.

The best part about this design is the handlebar clamps can be spun 180 degrees to move the handlebars 5mm forward for bigger/taller riders!

I am 5'10" and I did rotate them to get that 5 MM forward position.
Honda CRF450x V4 Pro Kit (Includes: V4 Stabilizer/Top clamp/Bar mounts) Check out GPR's website here.
Installing the Honda CRF450x V4 Pro Kit.
Note: I had the stock triple clamp with the GPR V4 kit with oversize bar mounts. I had to remove the old post mount to put the new one on. Notice the difference in height on the new post mount verses the old post mount. (new one on the left middle photo below)
1. Remove the stock triple clamp and old post mount.
| | | | |
| --- | --- | --- | --- |
| | | | |
2. Install the new post mount then carefully drop the new top triple clamp down on the steer tube and forks. Then secure the steer tube with the included steer tube nut.
| | | | |
| --- | --- | --- | --- |
| | | | |
3. Grease the inside of the post mount then bolt the V4 to the top triple clamp. Fasten the top handlebar mount and reassembe the rest of the components including the odometer and headlight. Make sure that no wires will be touched when moving the handlebars side to side! The front of the post mount will snag wires. You need to slightly bend the wiring harness support forward a little to get it out of the way.
| | | | |
| --- | --- | --- | --- |
| | | | |
Copyright © 1999-2009 XR650R.NET. All rights reserved.
XR650R.NET has been optimized for both MS Internet Explorer and Netscape Navigator, versions 4.0 and higher with a screen resolution of 1024x768.