Installing MotoMaster USA's 260mm Oversize Ultra Lite front rotor and brake pads!
As good as the brakes are on the XR650R, I went searching for some aftermarket brakes that would perform even better. I knew I wanted to go oversize but I didn't want to gain any more weight.
After doing some research, the only front rotor that matched what I was looking for was the 260mm Oversize Ultra Lite rotor by Moto-Master USA. When you look at this rotor, it clearly was designed with weight savings in mind. The rotor is also fully floating which means that during hard braking, the warpage caused by heat is greatly reduced. The set also included a new bracket (that replaced the existing one) which is lighter and holds the caliper farther out to clear the larger diameter disc.
The install should only take an hour or less as long as you have the right tools. You will need a large slotted screwdriver, a 5mm allen wrench, a 10 mm socket, and a 12mm deep socket.
Stay tuned for a ride review of the new rotor!
Here is the finished product!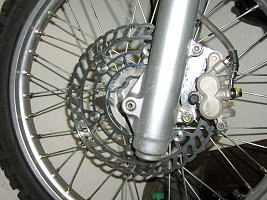 Here are a few pictures during the install.
Step 1. Put the bike on a stand so that you can remove the front wheel, then remove the wheel. Carefully loosen the four 10 mm bolts that hold the OEM rotor onto the hub and remove the rotor.
Step 2. Install the new rotor onto the hub. I used loctite on all four bolts before installing them on the new rotor. Make certain that the bolts are correctly torqued in place.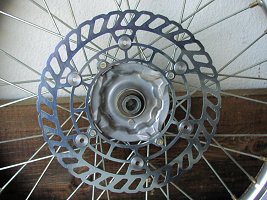 Step 3. Using the 12mm socket, remove the two bolts that hold the caliper bracket in place. You will need to remove the caliper from the bracket. This can be a little tricky. Make sure that the bracket pin and boot is removed and installed onto the new bracket. Make sure that the caliper can move freely on the bracket and caliper pins. You should also remove the existing pads and install new ones.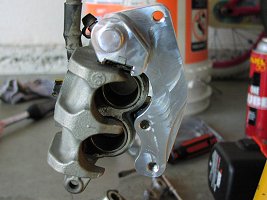 Step 4. Install the front wheel back onto the bike.
Step 5. Install the new caliper and bracket assembly back where you removed the old assembly. That's it! Here are the items that are removed or replaced: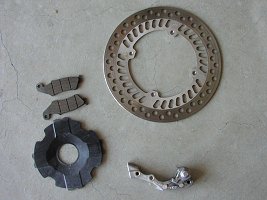 Stay tuned for the rear rotor install from MotoMaster USA.
Copyright © 1999-2006 XR650R.NET. All rights reserved.
XR650R.NET has been optimized for both MS Internet Explorer and Netscape Navigator, versions 4.0 and higher with a screen resolution of 1024x768.