Testing the Superbrace for the XR650R!
Product Review written by Dustin Heslop
The SuperBrace fork stabilizer definitely lives up to its name, it is a "super" brace. Intelligently designed, it is both functional and visually pleasing. The SuperBrace for the XR650R is machined from 6061-T6 billet aluminum and is extremely heavy-duty. For easy assembly the SuperBrace comes in a 2 piece design which is connected by four 5mm hex bolts. Assembly is a snap, it takes about 5 minutes, and that's if you're slow. Simply loosen the lower end of the fork boots and bolt it on, that's it! The lower end of the fork boots fit nicely on the top of the brace.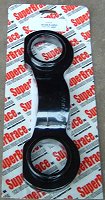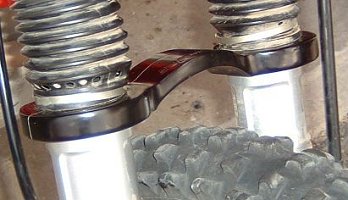 So how does it work? The purpose of a fork brace is to reduce "fork-flex". Fork flex can lead to poor suspension performance, poor steering accuracy, and headshake. A fork brace can significantly reduce these issues. It's no secret that the XR650R is a big, large, huge (you get the idea) dirt bike. With this kind of mass, the XR650R definitely has the potential to "flex" its forks. The SuperBrace can greatly reduce this problem.
Ride test: After installation, I took the XR on a short ride. I immediately noticed some of the benefits of the SuperBrace. The most noticeable effect was the added steering response; the steering was definitely crisper than without the brace. The added steering response was great through tight turns, the SuperBrace gives added confidence that the XR will go where you point it. If there is any complaint about the SuperBrace (if you want to call it a complaint) is that it may be too heavy-duty. If you completely compress your front forks, the SuperBrace had a tendency to lightly hit the sides of the front fender (see photo below). I think with any fork brace, you probably want to trim the sides of the fender. You will, however, need to install a fender brace to strengthen the fender.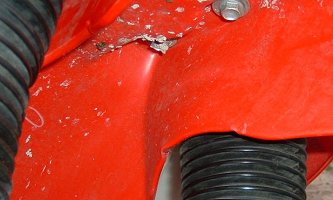 Copyright © 1999-2009 XR650R.NET. All rights reserved.
XR650R.NET has been optimized for both MS Internet Explorer and Netscape Navigator, versions 4.0 and higher with a screen resolution of 1024x768.