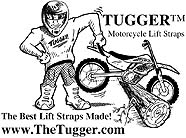 Here are a few pictures of the tugger (rear first then the front), as we install it on a couple CRF450x bikes. There's really not much to say about these tuggers other than they work well. Over the past several months the tuggers have proved themselves useful on many occasions! For more info, check out their website here!
Now a couple pictures of the front.
| | | | |
| --- | --- | --- | --- |
| | | | |
Copyright © 1999-2009 XR650R.NET. All rights reserved.
XR650R.NET has been optimized for both MS Internet Explorer and Netscape Navigator, versions 4.0 and higher with a screen resolution of 1024x768.