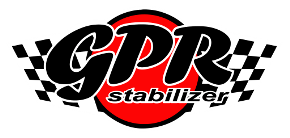 These are the first pictures taken of the newly designed GPR top triple clamp. The V4 is bolted directly to the triple clamp rather than the handlebar clamps.

The best part about this design is the handlebar clamps can be spun 180 degrees to move the handlebars 5mm forward for bigger/taller riders!
Honda XR650R forward mount Pro Kit (Includes: Stabilizer/Top clamp/Bar mounts) Check out GPR's V2.0 Stabilizer! Check out GPR's website here.
From left to right: Ralph Norman, Rob Barnum, Brian Hoth, Randy Norman.

Click photo to enlarge.
Installing the Honda XR650R forward mount Pro Kit.
1. Remove top clamp, file or grind down the casting slag that is in front of the dipstick and around the steer tube until the post mount sits down snug and flush with the top of the steer tube.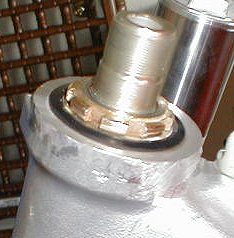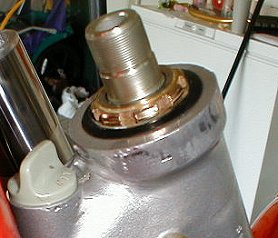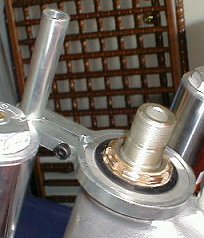 2. Install the new top triple clamp, tighten the stem and fork bolts.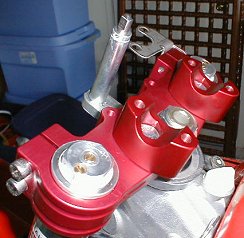 3. Mount the stabilizer and bar mount.
4. Tighten the bar clamps and stabilizer.
5. Sitting on the bike, make sure the post and pin are straight up then tighten the allen bolt on the post mount.
6. Make sure the pin is flush or below flush with the arm and grease the pin before final assembly.
7. Make sure all bolts are tight and move the bars from left to right to make sure no cables are getting pinched.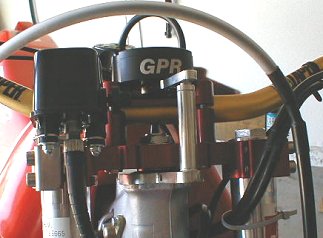 Check out GPR's website here.
Check out GPR's V2.0 Stabilizer!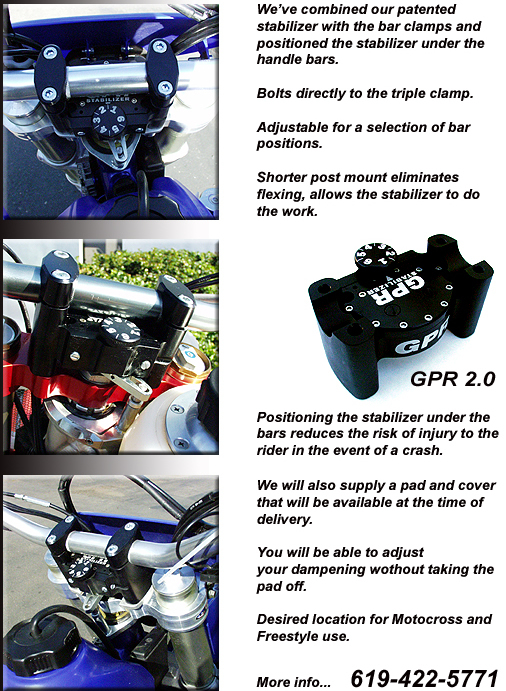 Copyright © 1999-2009 XR650R.NET. All rights reserved.
XR650R.NET has been optimized for both MS Internet Explorer and Netscape Navigator, versions 4.0 and higher with a screen resolution of 1024x768.